We are on our way to Whakapapa for a few nights. We have a 2017 Nissan Leaf with a 40 kWh battery, which is good for about 200 km of highway driving (loaded with 5 people and luggage).
The driving plan today is 'smaller, frequent top-ups' rather than 'fewer, longer charges'. The goal is to avoid arriving at a charger that is in use, but being forced to wait as the next charger is too far away.
Wellington to Levin
We departed Wellington on a full 100% charge level. Terrible traffic around Otaki adds about 20 minutes to the journey.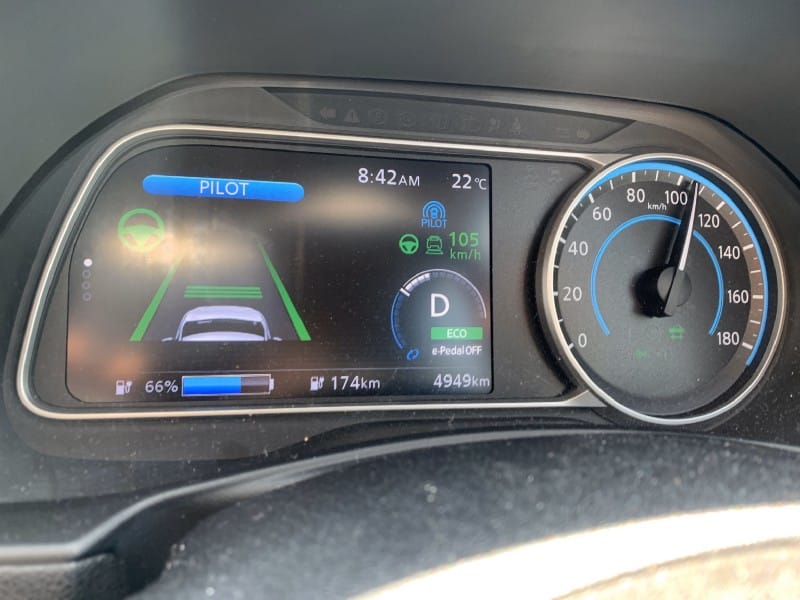 The Pro Pilot feature in this car makes congested driving much less tiring. It takes charge of the steering and speed.
Arrival battery: 63%
We need lunch, so have stopped at Levin for some bakery food. Parked at the ChargeNet charger at the New World car park.
Back in the car after 15 minutes selecting our lunch. Battery now at 83% for $6.02
Next stop will be either Bulls (56 km), Mangaweka (117 km), or Taihape (137 km). We will stop to eat our lunch, so will see how long we last.
Levin to Bulls
Quite a bit of holiday traffic on the roads. Average speed is about 95 kmph.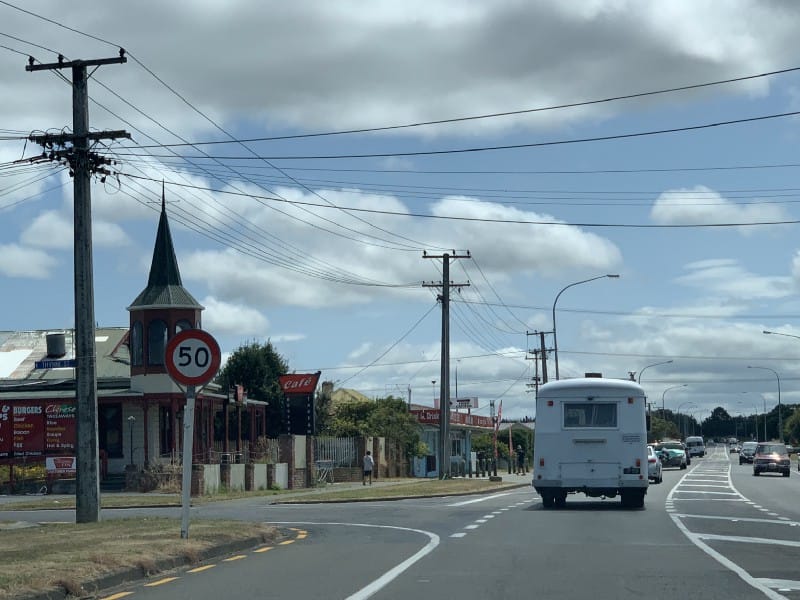 Entering Foxton
The speed has picked up again. Passed a couple of motor homes who were slowing traffic down.

Land yachts near Sanson
We got too hungry waiting so we stopped at Bulls. The charger is on a quiet side street.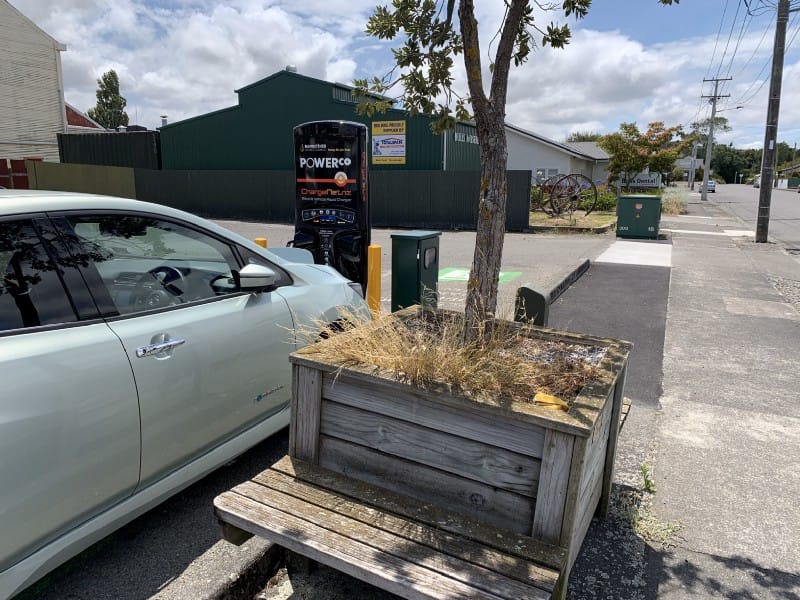 Arrival battery: 55%
Pies, sandwiches and cakes for lunch. Cake of the day goes to the caramel pecan slice (massive).
Back in the car as soon as we've finished our lunch. While we were eating, the car charged up to 83% again ($6.78).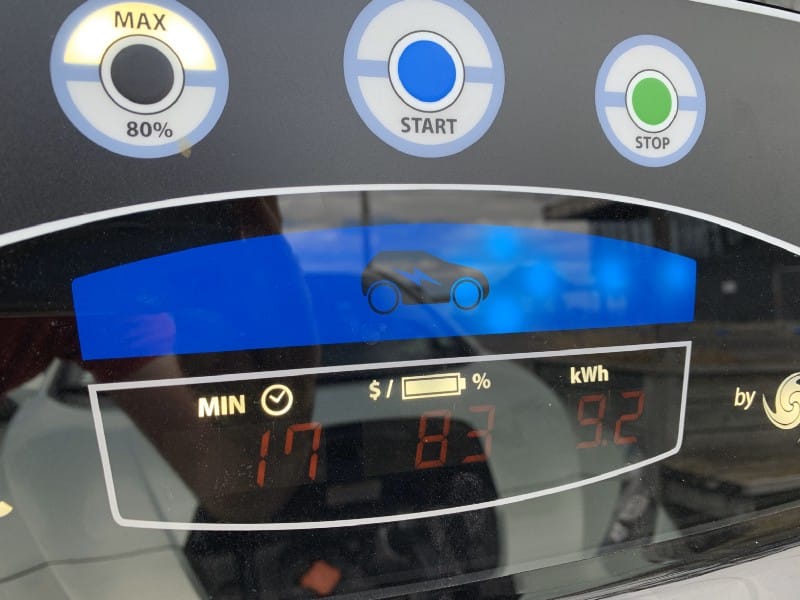 Total waiting so far: 0 minutes
As we leave Bulls, the range 'guess-o-meter' says 190 km. There are quite a few charging options ahead – Waioiru (109 km), Ohakune (137 km) or National Park (172 km).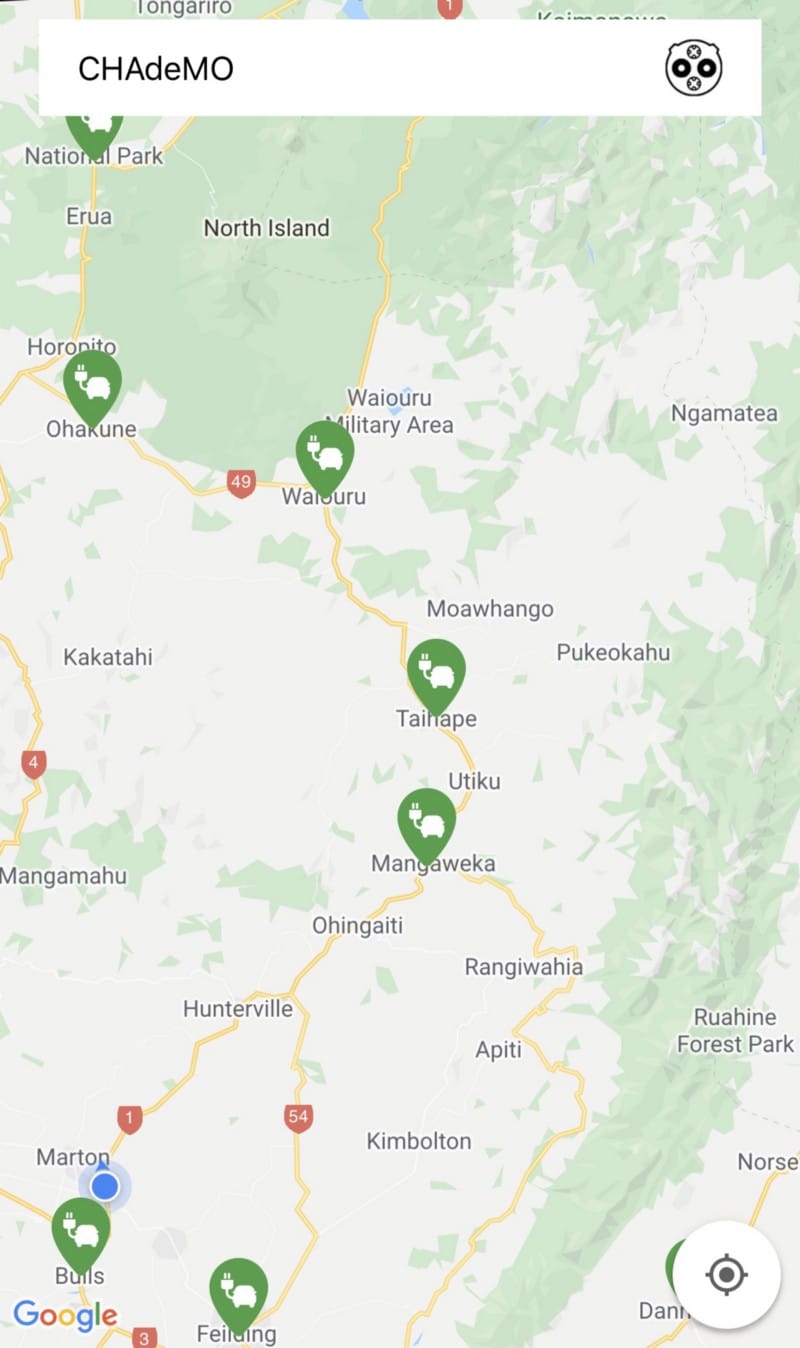 We will need to do a final top up at National Park, as there's no public charging at Whakapapa. As National Park is a bit dull, I think we'll stop in Ohakune and do a little grocery shopping there. Charge there, and then only spend 5–10 minutes doing that final top up at National Park. That's the plan.
Bulls to Taihape
The roads are certainly getting quieter. Average speeds are increasing to close to 100 kmph.
Got to Taihape with 33% charge. The charger was free, so seemed like a good idea. Means we can skip the Ohakune charge if that charger is in use.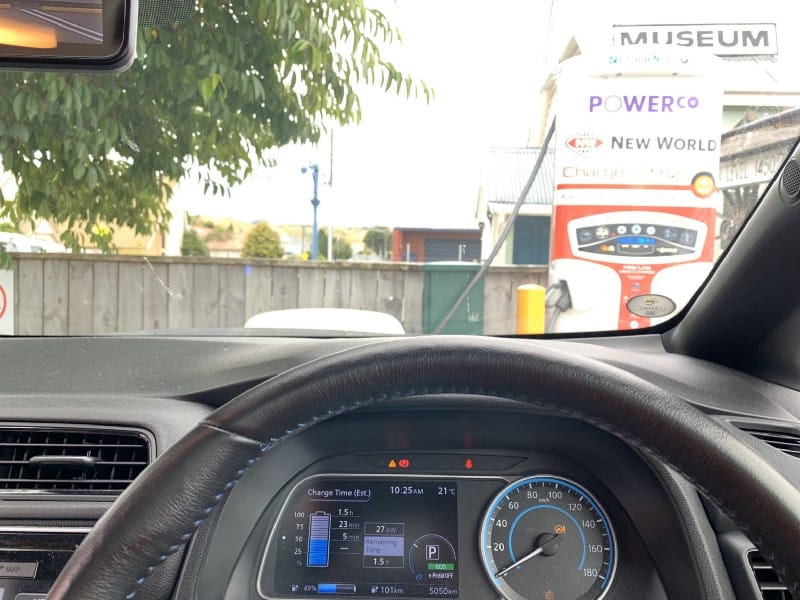 The distance to National Park from here is 93 km, so we will keep charging here until we have 110 km predicted range.
This is the first time we're actually waiting for the car. Departing with 55% charge ($5.41)
Waiting time: 15 minutes
Taihape to Ohakune
Arrived with 23% so it's time for grocery shopping at New World. Ideally we leave here with enough energy to drive to Whakapapa Village and then onto Turangi a couple of days later.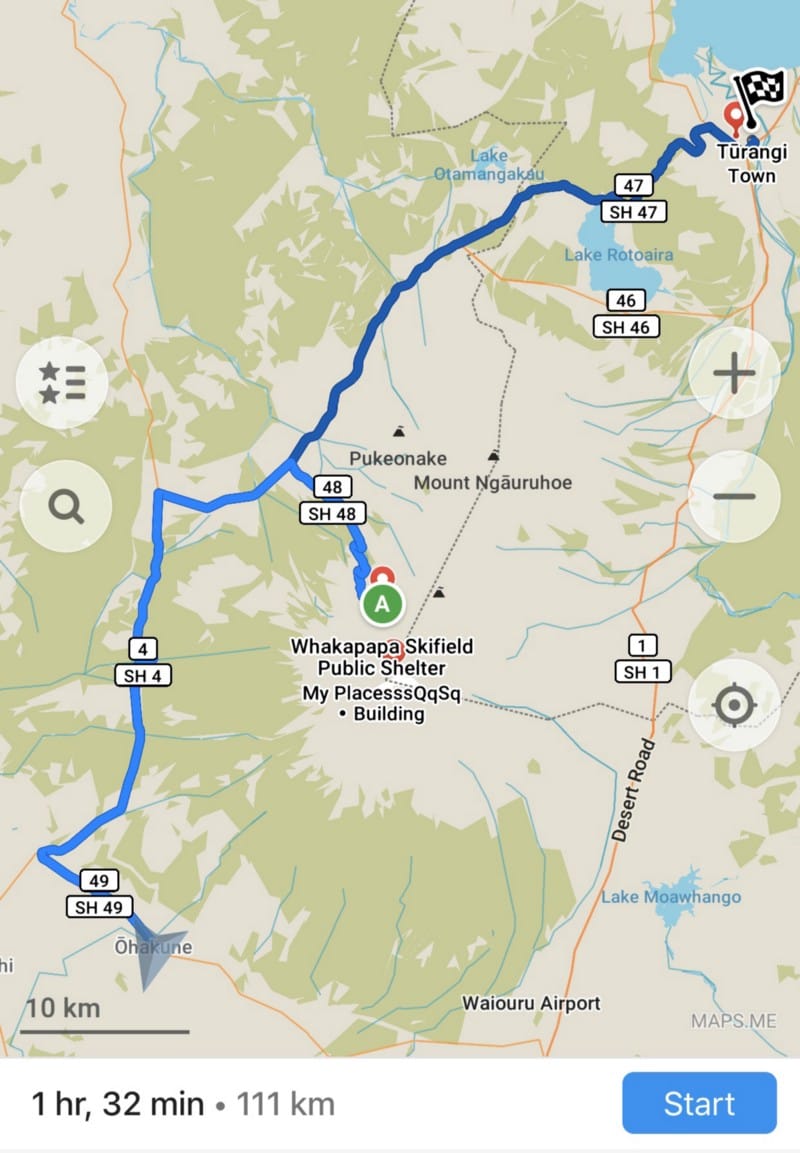 That driving distance is 111 km, so 60% or more should do it. Am currently on 65% so that's enough. Time to depart for our final destination.
Turns out the kids have not had enough time at the playground, so will delay unplugging for a few more minutes.
Okay, the kids are ready to cruise now. We have 73% charge, which is plenty. This top up cost $14.70. I'd say actual car waiting time was about 10 minutes, as the rest of the time was shopping and playground fun.
Total waiting time: 25 minutes
Off we go.
Ohakune to Whakapapa Village
Arrived with 38% which is plenty to get to Turangi. We are staying at the Skotel here, and they've let us top up – very kind.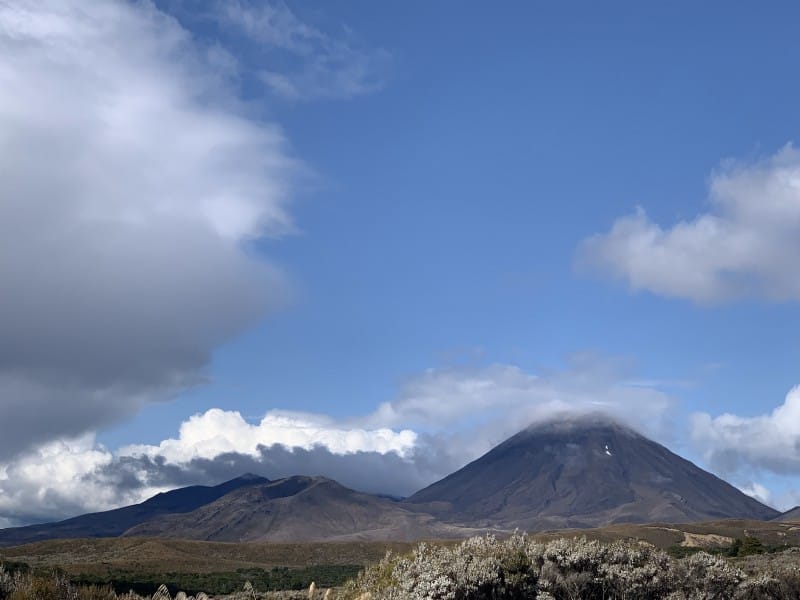 In summary, I think the plan of charging more frequently has worked well. We never had to wait for anyone else to finish charging, and we managed to have plenty of activities to do along the way that avoided us feeling inconvenienced by the charging.
A good trip.